Falling for Accuquilt
Our challenge this month was to use the Accuquilt North Carolina Star block, generously donated to us by Accuquilt. We could use the entire block, just parts to make a totally different design, and/or pair it with companion dies. We could make it into any project we liked, using fall fabrics, if possible.
I thought about what fall decorations I needed, and came up with ideas for placemats. Placemats add a finishing touch to a table setting and we host Thanksgiving. Time to get busy.
First, select fabrics. I selected a variety of fall colored fabrics and wanted to use the larger prints as the focus fabrics. They became the 4 51/2″ squares in each corner of the North Carolina Star blocks. Then it was pure fun to play with the other fabrics to see how placement changed the entire look. The block itself was 12″ square and I wanted the placemats to be about 12″ x 18″ so I added some designs on the sides.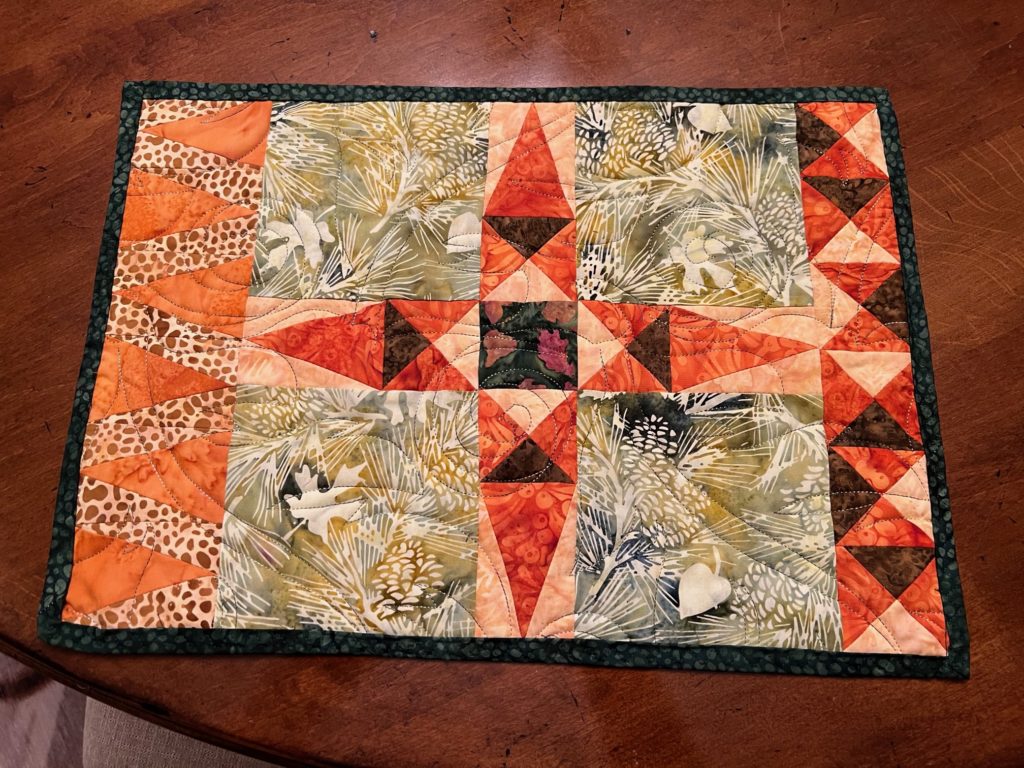 All placemats are backed and bound with Rock – Green Grass.
I quilted all of them at the same time on my Handi Quilter Forte with the Filigree Leaves e2e design from Pro-Stitcher Patterns.
Many of the fabrics I used are from the Sandalwood Collection, which is a Winter '22 Collection. These were the only fall colored fabrics I had on hand to work with, so if you see some you like, check your local retailer to see if they still have them. Country Charm or Celtic Fields are Summer '23 Collections with similar colors and look. Otherwise, check out their current Island Batik fabrics, and I'm sure you'll find something that needs to follow you home! I can always count on Creekside Quilts near me in Oregon to have Island Batik fabrics.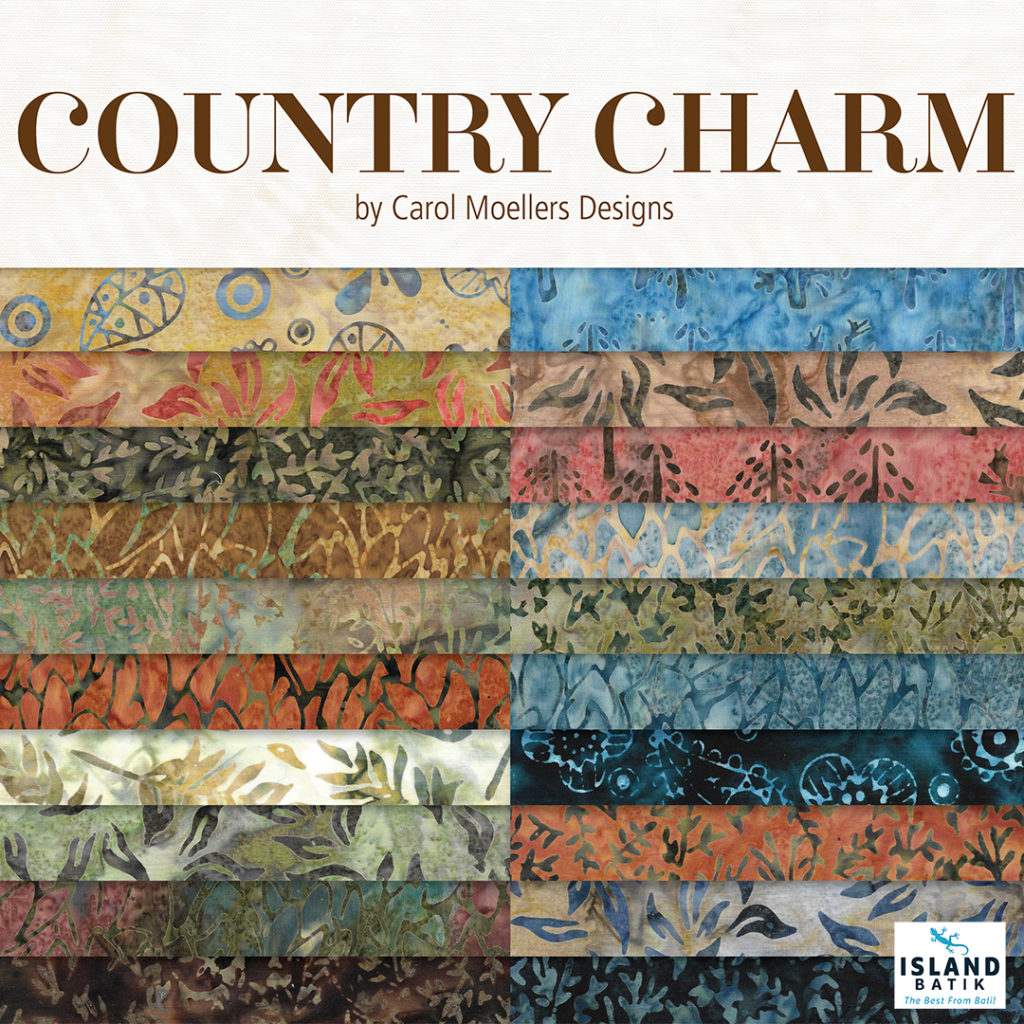 Remember, every project needs a new needle. I use Schmetz needles, normally an 80/12 Microtex. Hobbs 80/20 batting goes into nearly every one of my quilted projects and this one is no exception. Accuquilt makes cutting fabric so much easier and cutting the pieces is my least favorite part of quilting, so I use my Accquilt whenever possible. This time, it was the North Carolina Star BOB. Aurifil 50 weight thread is used for piecing. And a big thank you to Island Batik, who gives us freedom to play with our fabric and projects!
Please take a minute to check out what the other Island Batik Ambassadors did for their challenge this month:
Brenda Alburl ~ Songbird Designs
Renee Atkinson ~ Pink Tulip Quilting
Pamela Boatright ~ PamelaQuilts
Susan Deshensky ~ Lady Blue Quilts
Brittany Fisher ~ Bobbin with Brittany
Preeti Harris ~ Sew Preeti Quilts
Mania Hatziioannidi ~ Mania for quilts
Reed Johnson ~ Blue Bear Quilts
Victoria Johnson ~ Forever Quilting for You
Randi Jones ~ Randi's Roost
Connie Kauffman ~ Kauffman Designs
Emily Leachman ~ The Darling Dogwood
Denise Looney ~ Quiltery – For The Love Of Geese
Leah Malasky ~ Quilted Delights
Maryellen McAuliffe ~ Mary Mack Made Mine
Anorina Morris ~ sameliasmum.com
Lisa Pickering ~ Lisa's Quilting Passion
Sarah Pitcher ~ Pitcher's Boutique
Claudia Porter ~ Create with Claudia
Lana Russel ~ Lana Quilts
Elita Sharpe ~ Busy Needle
Gail Sheppard ~ Quilting Gail
Sandra Starley ~ Textile Time Travels
Jennifer Thomas ~ Curlicue Creations
Suzy Webster ~ Websterquilt