Cotton Theory 102 is the second in the 5 part series of learning all aspects of the Cotton Theory method of quilting.  Our project is the Button Back Runner.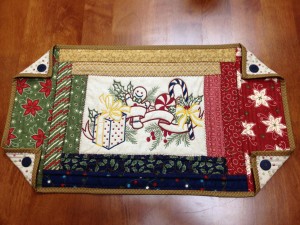 You will learn
What the Cotton Theory method is all about
"Quilt First, then Assemble" allows you to make a truly reversible quilt while making only one project and when you're finished, it's already quilted!
The Wobble Quilting Stitch
The Joining Stitch
The Cotton Theory One Way  and Highway procedures
How to stitch a label in the binding
The Magic Triangle method of attaching French-Fold binding
This class is scheduled for three consecutive Wednesday afternoons or evenings in April:  April 15, 22, and 29.  Class is from either 1 – 4 pm or 6 -9 pm.  Cost of this class is $45 plus the pattern ($13) and materials.  Once registered for the class, I will forward to you preparation and instructions for the first class.  If you do not wish to embroider the center rectangle, there is a quilting option.
If you are an experienced quilter, you may begin with this class and skip Cotton Theory 101, however, either CT 101 or CT 102 is required to advance to CT 103.
Current beginning Cotton Theory classes, CT 101, are offered Feb. 9 and 23 from 10 – noon or 6 – 8 pm OR Feb. 10 and 17 from 10 – noon or 6 – 8 pm and is $35 which includes a pre cut kit for the 10″ x 10″ Candle Mat.
If interested, please email me at lanarussel@gmail.com.