Featuring Deb Tucker's Studio 180 tools
This month Island Batik challenged each its 25 ambassadors to use a Studio 180 tool that they had received, but not used previously, to make a quilt or a runner with the surprise bundle of the Winter 22 collection each of us received. (Remember the wrapped fabric bundle I couldn't show you in my unboxing video? ) It is revealed below.
The tools I received were the Wing Clipper Tool and the Quilters Magic Wand. You can find details and directions for how to use the Wing Clipper tool from Deb Tucker herself here and the Magic Wand here.
To use the Wing Clipper Tool, first position your block with the long edge of the center triangle at the top, as shown above. Line up the diagonal lines on the ruler with your seam. So, in the sample above, I moved the tool down so the diagonal lines on the tool matched up with the diagonal lines on my pieced rectangle block. Then trimmed the right side and top of the block.
Then turn the block upside down, line it up with the desired size of your block ( in this case, 2 1/2″ x 1 1/2″ and trim the right side and the top of the block.
This is the Quilter's Magic Wand. It is used to mark the lines on either side of this tool to indicate sewing lines. I lined it up on the center line where I want to cut the block in two after sewing 1/4″on either side . I found this to be a helpful tool, because I can't tell you how many times I have sewn right down the middle instead of 1/4″ on either side of the middle of the block.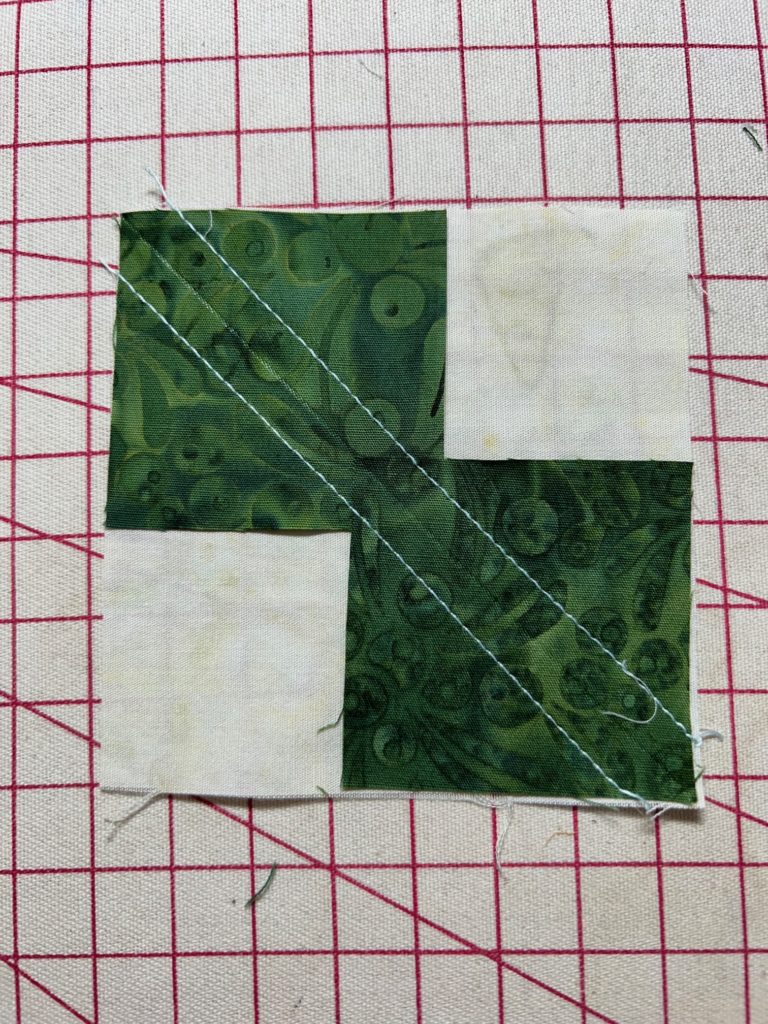 I used the Magic Wand here to mark these sewing lines. I used a new Schmetz 80/ 12 microtex needle for piecing, supplied by Schmetz. Pieced with Aurifil 50 wt. thread.
And this is Sandalwood, my winter '22 surprise bundle that was wrapped and tied with bows when I received my box of fabrics and supplies from Island Batik. It's so beautiful, I had a hard time cutting into it! Sandalwood is shipping soon, so check these shops or ask your LQS.
A Quilter's Place, Oakdale, CA
Cotton and Chocolate, Simi Valley, CA
Creative Union Fabric, Port Townsend, WA
Creekside Quilts, Gales Creek, OR
KIKI's Quilt Shack, Fresno, CA
Ocean Wave Quilts, Eureka, CA
Quilt Passions, Mission Viejo, CA
Sew Smart Supply, Los Molinos, CA
Village Sewing Center, Santa Rosa, CA
Will n Beez, Salem, OR
This is the Star Shadows pattern from Studio 180 that was provided to me to make this challenge quilt. Once I decided this is what I wanted to make with the Sandalwood fabric and the Wing Clipper and Quilter's Magic Wand tools I received, I reached out to Studio 180 and they graciously supplied it to me for this challenge.
This is Island Batik Yellow Amber I used for the back of my quilt and Island Batik solid grey was used for the star shadows. Did you know Island Batik has solids? We were provided with white, grey, and black solids and the grey was perfect for this.
Here is the quilt on my Handi Quilter Forte (now named Amara 24) longarm. I used Hobbs 80/20 batting provided by Hobbs.
Here is the digital quilting pattern I used to quilt it. It's Mod Petals by Quiltable.
Check out all the other Ambassadors to see how they handled the challenge:
Brenda Alburl ~ Songbird Designs
Renee Atkinson ~ Pink Tulip Quilting
Pamela Boatright ~ PamelaQuilts
Susan Deshensky ~ Lady Blue Quilts
Brittany Fisher ~ Bobbin with Brittany
Preeti Harris ~ Sew Preeti Quilts
Mania Hatziioannidi ~ Mania for quilts
Reed Johnson ~ Blue Bear Quilts
Victoria Johnson ~ Forever Quilting for You
Randi Jones ~ Randi's Roost
Connie Kauffman ~ Kauffman Designs
Emily Leachman ~ The Darling Dogwood
Denise Looney ~ Quiltery – For The Love Of Geese
Leah Malasky ~ Quilted Delights
Maryellen McAuliffe ~ Mary Mack Made Mine
Anorina Morris ~ sameliasmum.com
Lisa Pickering ~ Lisa's Quilting Passion
Sarah Pitcher ~ Pitcher's Boutique
Claudia Porter ~ Create with Claudia
Lana Russel ~ Lana Quilts
Elita Sharpe ~ Busy Needle
Gail Sheppard ~ Quilting Gail
Sandra Starley ~ Textile Time Travels
Jennifer Thomas ~ Curlicue Creations
Suzy Webster ~ Websterquilt