Crazy Quilt with Aurifil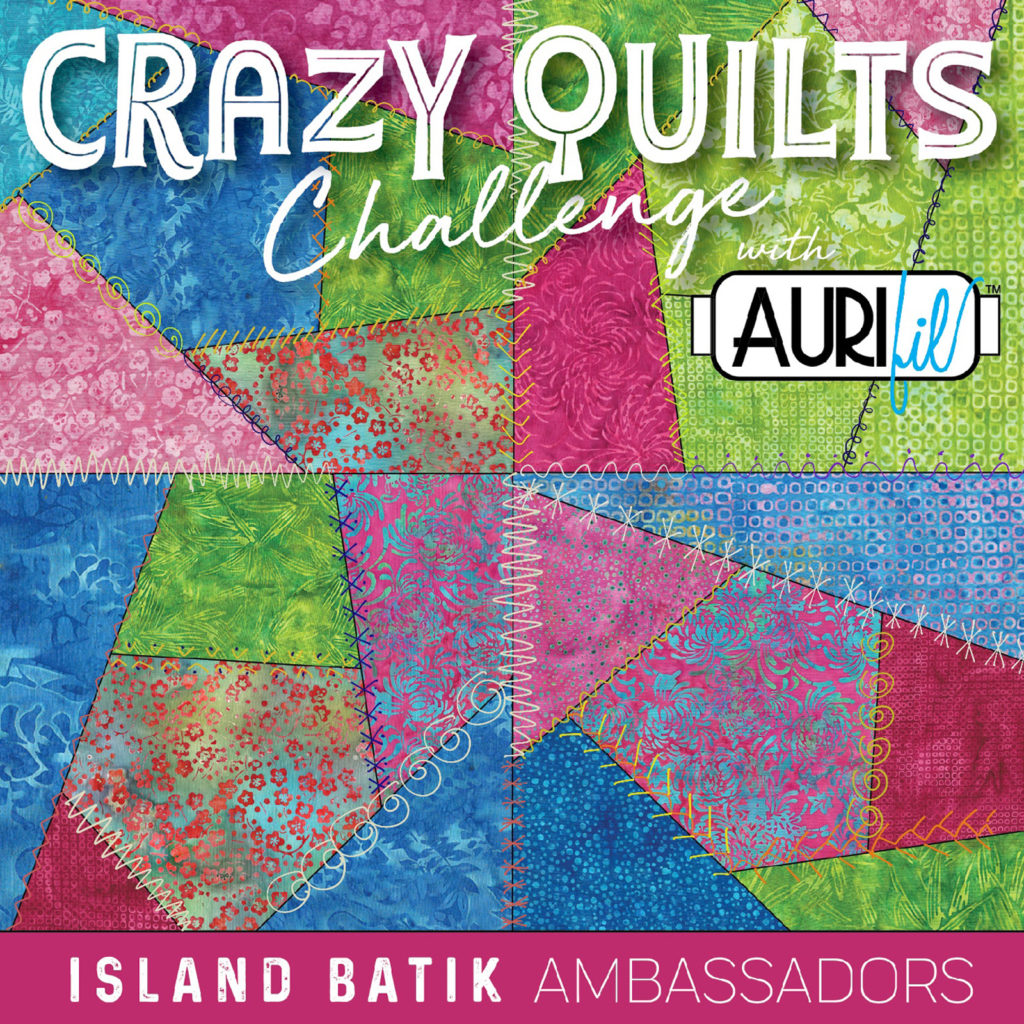 Our challenge for April was to make a crazy quilt with the Aurifil thread provided by Aurifil and any Island Batik fabric provided previously.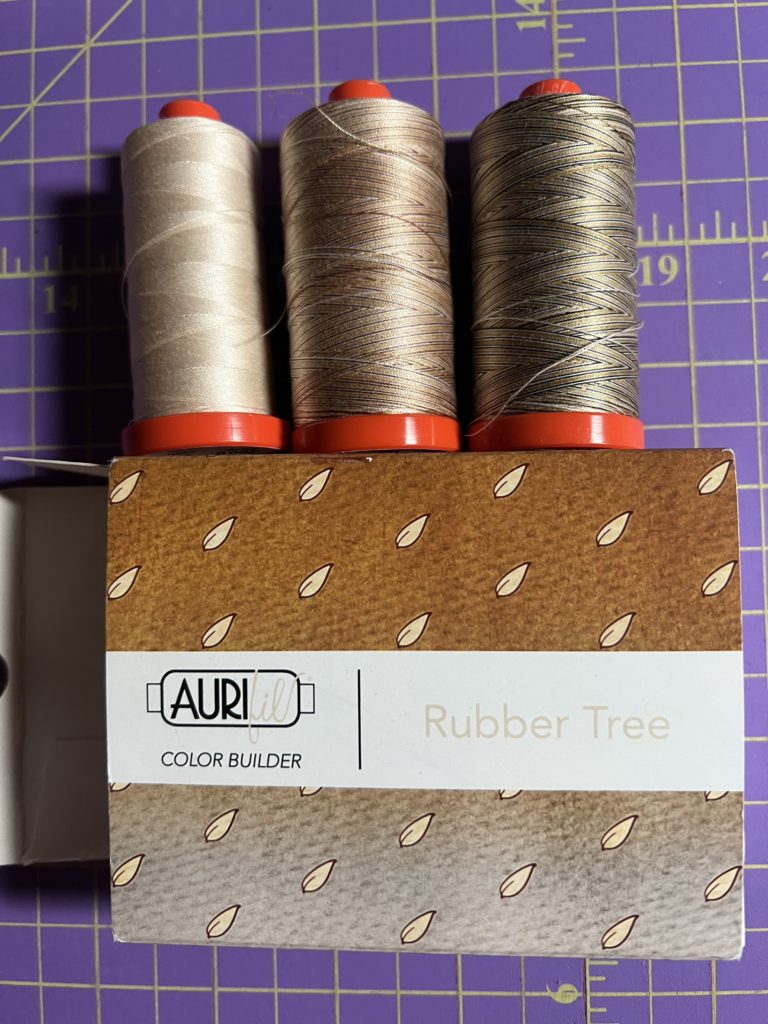 The Aurifil thread I was gifted was a three pack collection named Rubber Tree. One spool was a light medium tan and two of them were variegated, one light and one darker.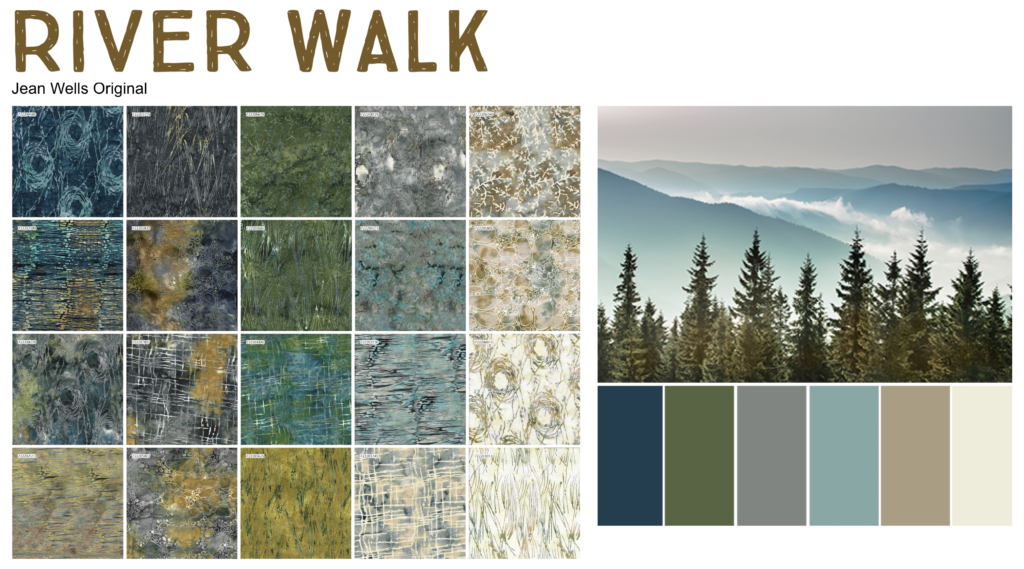 The Island Batik fabric collection that I was gifted that would show off this thread collection the best was River Walk. And I love this collection, so I had no problem using it again for April.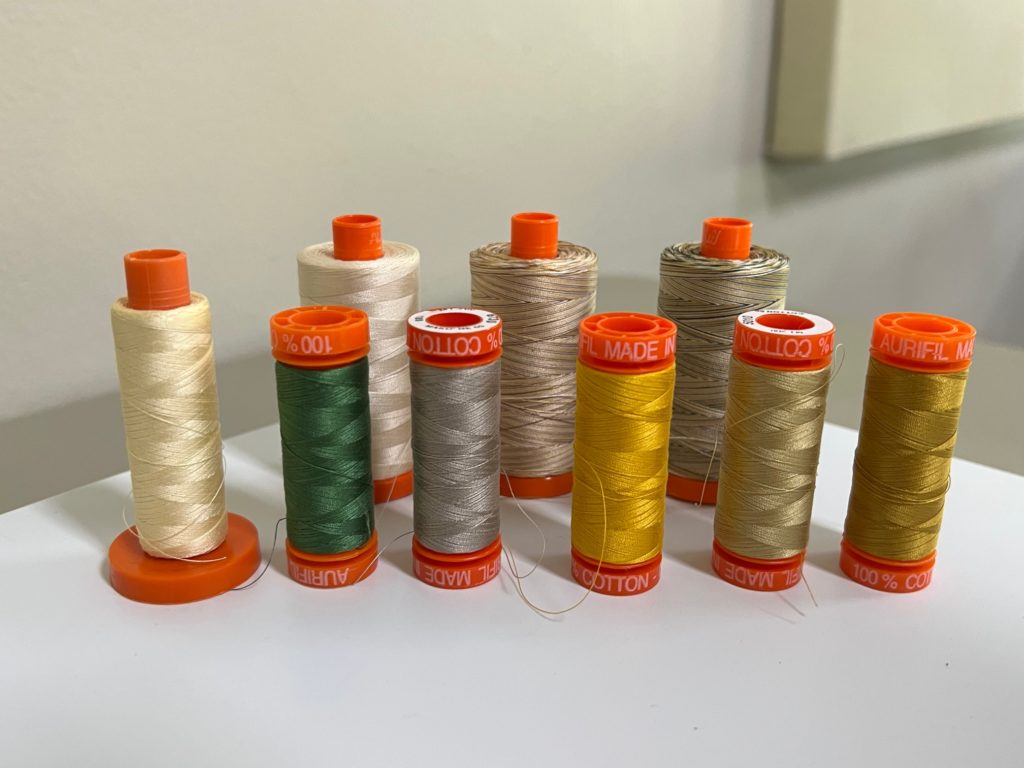 I had some additional Aurifil threads in my stash that worked well in combination with the Rubber Tree collection, so here is the line up I used to create my crazy quilt.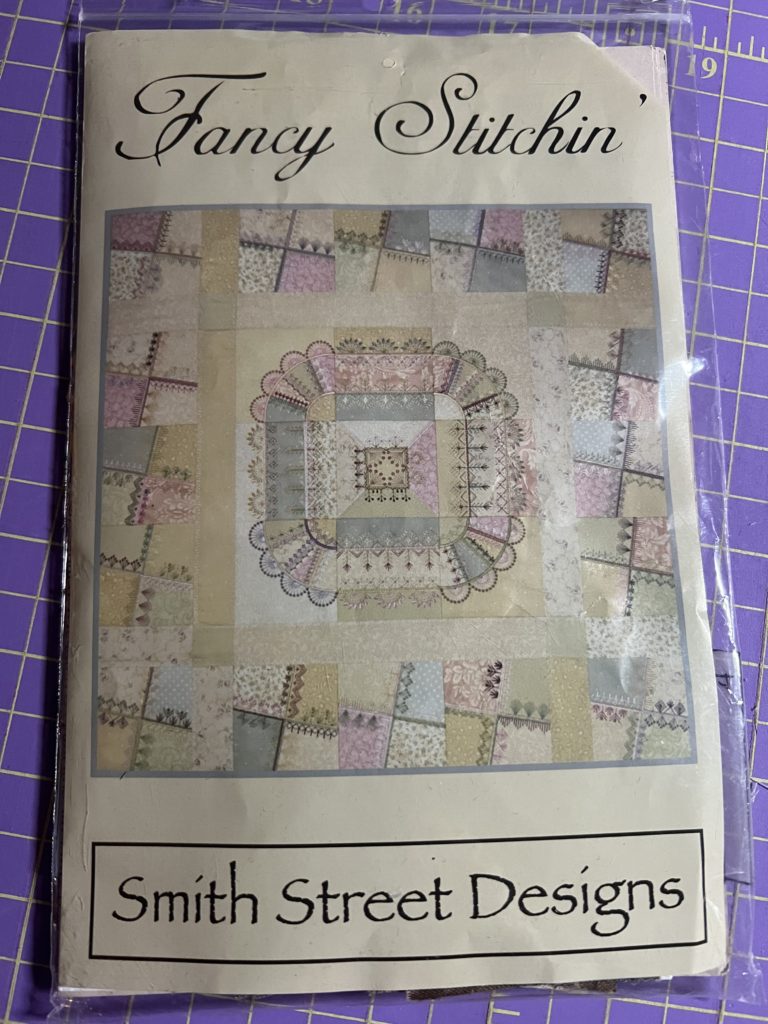 This pattern came to mind as I thought about making a crazy quilt because I had made it previously. It uses machine embroidery and is fun to make.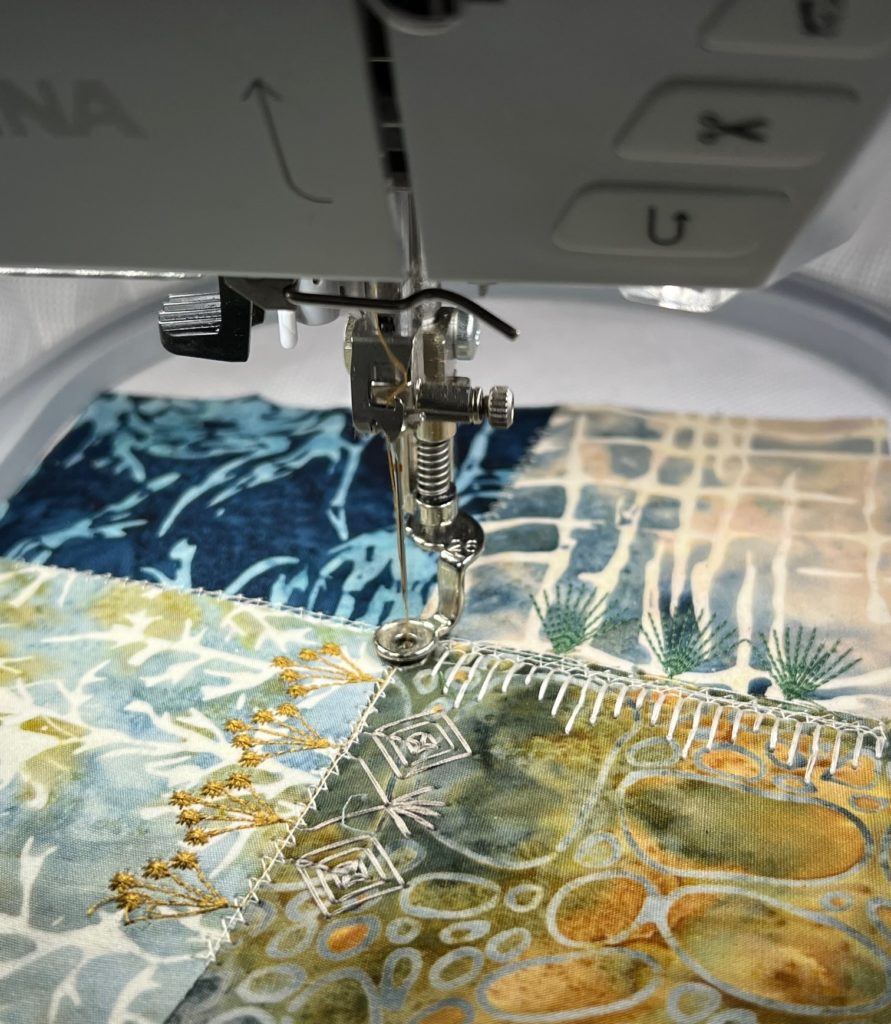 I love making decisions about which thread color to use next and sitting back and watching my machine embroider it out for me.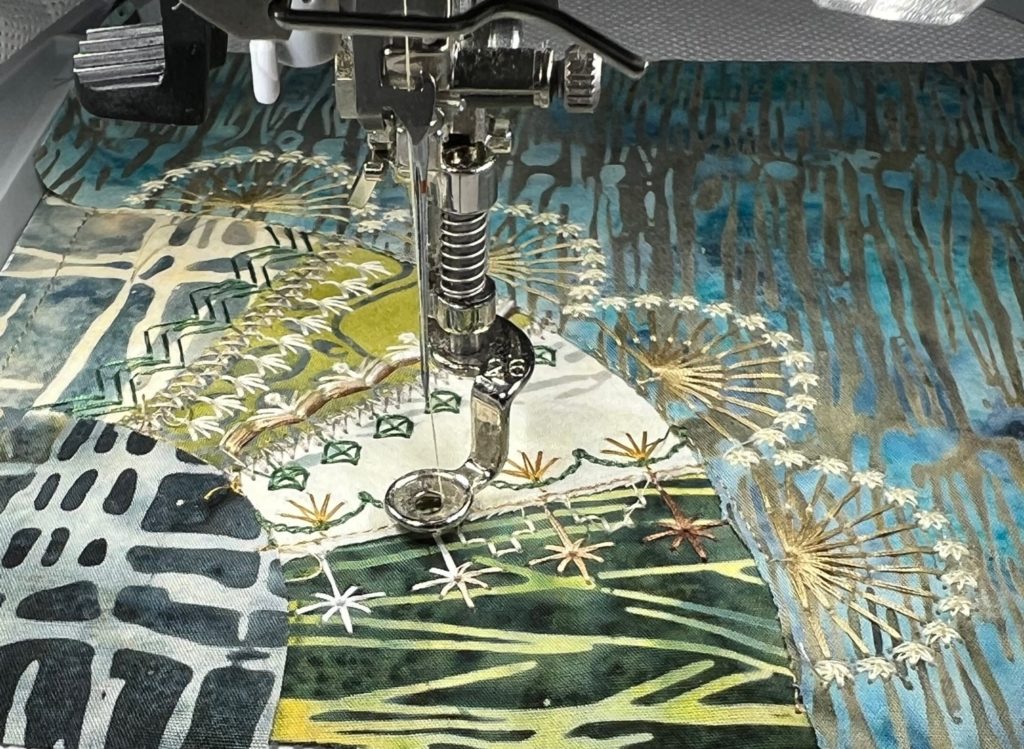 The Aurifil variegated threads seemed to change colors in just the right place. I enjoyed using them.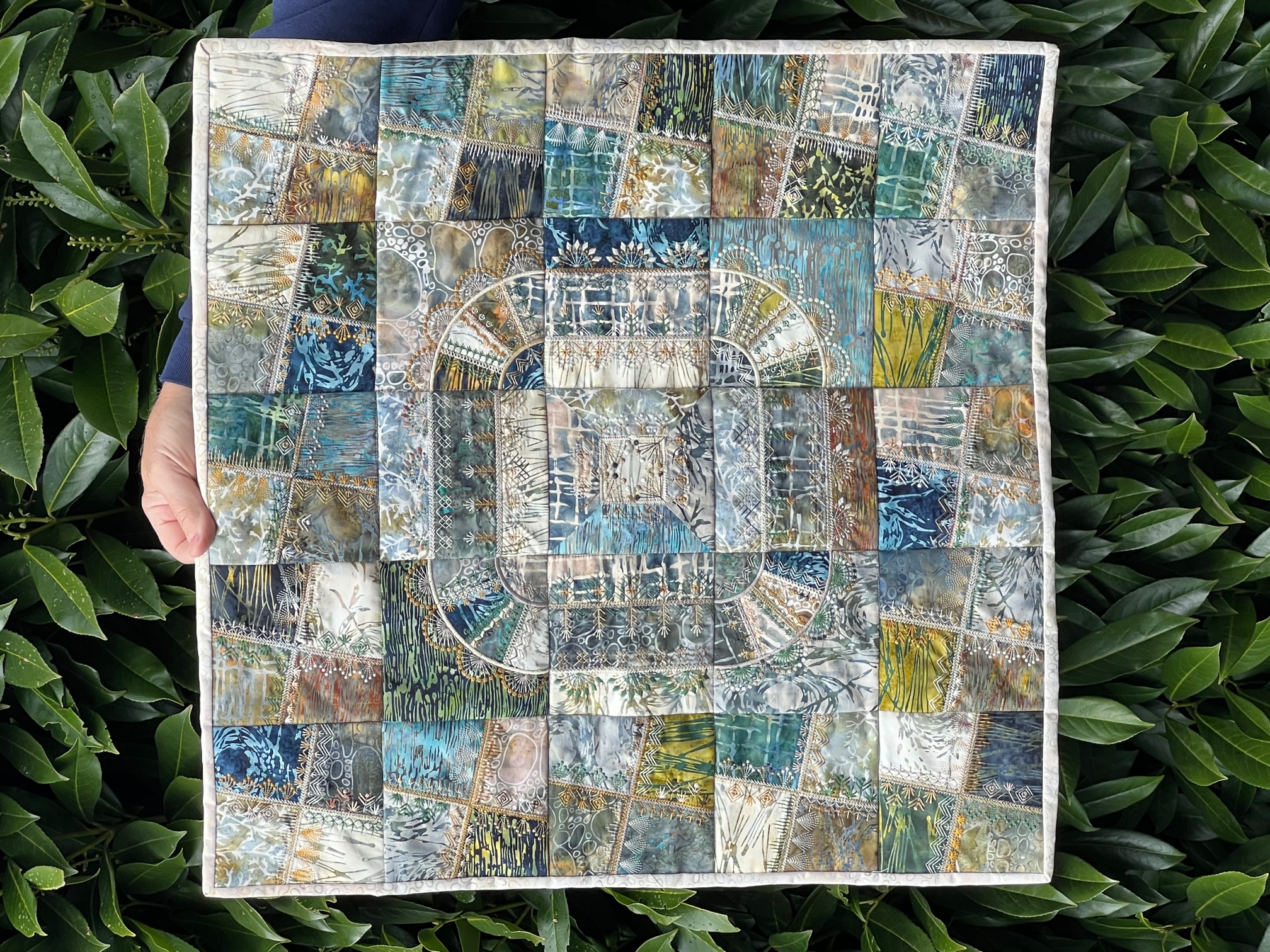 Here is my finished crazy quilt wall hanging. I really love how it turned out.
I used Hobbs 80/20 batting and a new Schmetz needle for this project and appreciate these sponsors for providing these materials for me to use for these challenges.
Check out these Quilt shops for the Island Batik River Walk collection;
A and A Sewing
Bird in Hand Fabric
Boutique 4 Quilters
Creekside Quilts, OR
Portage Quilt House
Quilting by the Hearth
Sew Creative, OR
Stitch, CO
Check out the other Island Batik Ambassador's blogs to see what they did for their April Island Batik / Aurifil Crazy Quilt Challenge.
Brenda Alburl ~ Songbird Designs
Renee Atkinson ~ Pink Tulip Quilting
Pamela Boatright ~ PamelaQuilts
Susan Deshensky ~ Lady Blue Quilts
Brittany Fisher ~ Bobbin with Brittany
Preeti Harris ~ Sew Preeti Quilts
Mania Hatziioannidi ~ Mania for quilts
Reed Johnson ~ Blue Bear Quilts
Victoria Johnson ~ Forever Quilting for You
Randi Jones ~ Randi's Roost
Connie Kauffman ~ Kauffman Designs
Emily Leachman ~ The Darling Dogwood
Denise Looney ~ Quiltery – For The Love Of Geese
Leah Malasky ~ Quilted Delights
Maryellen McAuliffe ~ Mary Mack Made Mine
Anorina Morris ~ sameliasmum.com
Lisa Pickering ~ Lisa's Quilting Passion
Sarah Pitcher ~ Pitcher's Boutique
Claudia Porter ~ Create with Claudia
Lana Russel ~ Lana Quilts
Elita Sharpe ~ Busy Needle
Gail Sheppard ~ Quilting Gail
Sandra Starley ~ Textile Time Travels
Jennifer Thomas ~ Curlicue Creations
Suzy Webster ~ Websterquilt